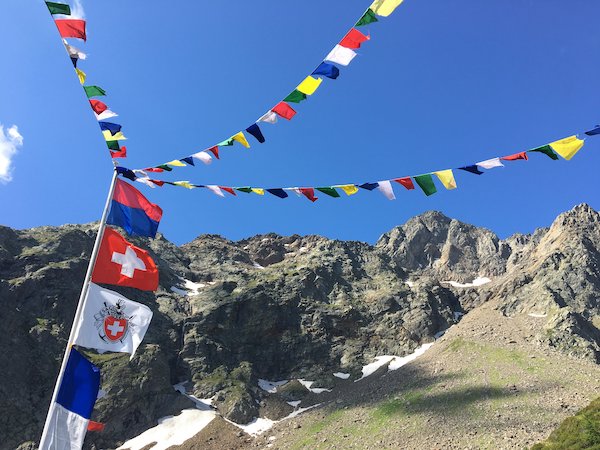 Prayer flags in the Swiss Alps
"Yoga [which includes meditation] is the stilling of the fluctuations of the mind."
- Patanjali Yoga Sutras -
When we are caught in the fluctuations of the mind, i.e. our emotional and thought storms, we feel separate, disconnected, agitated, discontent, alone.
Yoga and meditation teach us to still the body and the mind:
* initially by focusing (placing our attention) on a chosen object like the breath, a sensation, an image, a sound (in the 8 limbed yoga tree it's the 6th limb - dharana).
* eventually, once the mind is calmer, by releasing that focus so we experience the present moment, as is (the 7th limb, dhyana) which may include sounds, sensations, images, sights, smells,.. When we stop resisting the reality of what is, which is like fighting the wind, we can finally be/sit with what is (which is one of the definitions of meditation), moment by moment by moment: nothing to change, nowhere to go, nothing to do but just BE HERE NOW.
Some call this process, a process of developing intimacy with our lives and what surrounds us.
"Mindfulness [meditation], cultivated for even a few minutes,
draws the heart toward itself. It invites the intimacy we yearn for
and that is calling to us because, ultimately, mindfulness is intimacy
- with ourselves and the world."
- John Kabat-Zinn -
So, what does it mean to stop and be still? How does it feel to pause and be here? What is it like to access the quiet inherent in the present moment, the power of Now, as Eckart Tolle calls it?
Long time yogi and meditator Danna Faulds says it like this in her poem, Presence:
"Always aware
always there,
Bare, vast,
radiant and free --
the truth of me."
(from her book, Limitless)
Join us, this fall, to explore different ways and methods to settle the mind body, land in this moment, and discover the stillness and peace that arise when we ABIDE.

The benefits of meditation are numerous and have been widely studied:
improved, steadier mood
decreased cortical thinning due to age
increased attention, memory, emotional regulation
decreased stress related cortisol
increased immune system
has been found to help with cardiovascular disease, diabetes, PMS, chronic pain, insomnia, anxiety, phobias and eating disorders
a sense of inner balance, perspective, peace and calm

The intention for this class is to:
initiate and develop a meditation discourse that has continuity and is part of the yoga tradition
encourage a sustainable daily practice
Learn ways to bring practices into your daily living
be part of a group for support and sharing
learn techniques that work for you, that you love and that provide doorways into the inner life
Each class will include:
10 min yoga warm-up
Pranayama (breath regulation) to support meditative practice
Mudra and affirmations
Meditations that guide us to the present moment
Practices you can bring into your daily living
Inquiry
Readings and quotes pertinent to the topic
Class recordings to support your practice
Email check in on the off week
Nadia Puttini, owner of BareSole Yoga, holds a MA in Expressive Therapy from Lesley University, is an experienced E-RYT 500 registered Kripalu Yoga Teacher, and a C-IAYT certified yoga therapist with more than 4000 hours teaching and client hours. She fell in love with meditation at the age of 12 and practiced intensively for a decade, gradually integrating the study of the body through improvisational movement and yoga while continuing her exploration of meditation. Some of her favorite meditation teachers are Jonathan Foust, Richard Faulds, Sally Kempton, Richard Miller, Adyashanti, Eckart Tolle and others. Nurturing the integration of body and mind is one of her greatest passions.