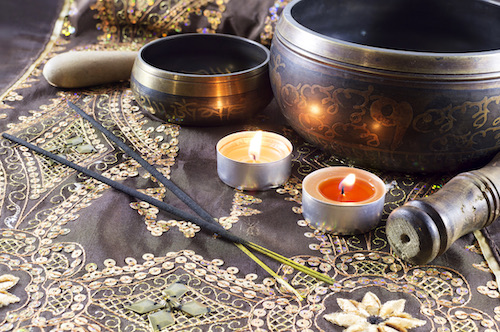 Join us for a community journey into sound and stillness as Joe Hayes from Soundscapers guides us into the seasonal transition with didgeridoo, trance Native American drumming, over a dozen crystal quartz and Tibetan sound bowls, guided imagery, sacred chanting and more.
Quantum physics knows that everything is made of vibration, including ourselves. More and more research is showing that sound therapy is an effective healer, working at the deepest cellular and DNA level possible.
Deeply relax on your mat, let go and experience profound regeneration: these are gifted moments in which we can switch modes and access deeper states of consciousness that inform our daily choices; that is where new seeds are planted.
Lay down comfortably with a blanket, unwind, release, heal.
Joe Hayes is the founder and principal of SoundScapers, which for the past seven years has provided therapeutic sound healing practices throughout New England at hundreds of venues and for thousands of attendees.
"What a wondrous evening with Joe....
Endless gratitude to you for providing
these opportunities to heal and grow and BE,
for all of us."
A. G.
To check out his Facebook page, click here.
Space is very limited.
Register soon as this will sell out quickly.
Please bring proof of vaccination.
MASKS ARE OPTIONAL.
Thank you.