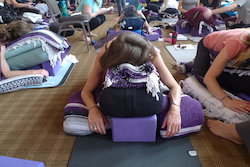 " I will let my body flow like water over the gentle cushions" - Sappho -
Restorative Yoga is a perfect antidote to stress. Given the pace of our daily lives learning how to relax is crucial; to relax is to rest deeply.
"I often refer to restorative yoga poses as "active relaxation". By supporting the body with props, we alternately stimulate and relax the body to move toward balance. Some poses have an overall benefit. Others target an individual part, such as the lungs or heart. All create specific physiological responses which are beneficial to health and can reduce the effects of stress-related disease" (Lasater). The parasympathetic nervous system (rest and digest) becomes dominant and healing at many levels can begin.
Join us for a practice that will help you rest, reflect and reset.
"Thank you for a wonderful restorative yoga class. I particularly like how you integrated the readings". N.H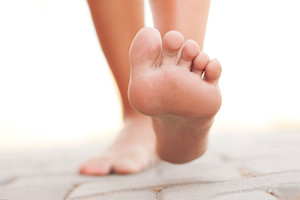 Optimizing foot health and alignment improves joint health, balance, and overall wellness. This class teaches techniques to strengthen, stretch and massage your way to pain-free, strong, injury-resistant feet (and ankles and legs). Learn ways to correct and prevent heel spurs, plantar fasciitis, corns and bunions. Learn why and how to transition to shoes that let your feet be feet!
In this workshop we will learn:
about the marvelous complexity of your amazing feet
how optimizing foot health and alignment impact whole body alignment, joint health, balance, bone-density and overall wellness
strengthening, stretching and self-administered massage techniques to optimize foot performance
techniques to correct and prevent heel spurs, plantar fascitis, neromas, corns and bunions
how transitioning to minimal footwear can awaken your feet's natural abilities and improve mobility, balance and coordination
Erin Jade certified yoga teacher, massage therapist, writer, creative aspirant, forest explorer, mother to a three year old son, and overall curious person has been teaching a wide range of ages and abilities for the past twelve years. Her teaching offers a contemporary, relevant physical practice intended to counteract the deleterious effects of extended chair sitting, shoe wearing, cultural disembodiment

and nature deficit. She is on a mission to save our species and planet. She has a pretty good sense of humor.
She draws from many traditions including yoga, natural movement and secular buddhism. Some of her numerous influences include biomechanist Katy Bowman, barefoot podiatrist Ray McClalahan, movement coach Ido Portal, NatMov creator Erwan Le Corre, Z Health's Dr. Eric Cobb and buddhist teachers Pema Chodron and Tara Brach, writers Annie Dillard and Amy Leach, artist Andy Goldsworthy.
Erin combines dynamic/resistance stretching and strengthening, agility, balance, inner ear and vision drills and alignment principles into her physical approach and mindfulness, breath, creativity and gratitude into her spiritual teaching. She believes that regular exposure to the natural world, varietal movement, nutrient dense seasonal food, supportive community and clear purpose are some of the most important elements for a long healthy life. She hopes to inspire examined living, rich with inventiveness, reflection, humor and curiosity.