AROMATOUCH TECHNIQUE CERTIFICATION TRAINING
with Eileen Ladwig, MS, OTR/L
Saturday, October 21st
11am - 5:30pm
BareSole Yoga Studio, Carlisle


The Aromatouch Technique was created by Dr. David K. Hill, D.C., a physician and world renowned expert in the medicinal use of essential oils Dr. Hill created a technique that would be easy enough for anyone to learn and administer, yet powerful enough to produce consistent results.
The AromaTouch techniques incorporates simple hand techniques using essential oils to create a powerful whole body wellness experience. Whether you are young or old, male or female, anyone can learn and put it to use in the lives of those they care for.
The fee includes 6 hours of instruction, a step-by-step manual and video, and 8 doTERRA essential oils used in the treatment ($100 value).
Please don't hesitate to contact Eileen with any questions:
eileenmladwig@gmail.com or call (978) 994-0655.
Eileen Ladwig is an Occupational Therapist who has been integrating natural approaches into her practice for over 30 years. Some of these include CranioSacral Therapy, Reiki, Yoga Herbology, and Sensory Integration. Eileen discovered the benefits of Certified Pure Essential Oils 5 years ago when they were the solution for allergies she had for over 40 years. Eileen's passion is to Educate and Empower individuals and families with safe, effective and affordable natural solutions. Saturday, October 22nd, 10-5pm | BareSole Yoga Studio | $149 Registration required. Limited space.

Cost: $149 *
To Register Online:
To Register by Check:
Call or Email

Registration Required
Limited Space

RESTORATIVE YOGA SUNDAYS
with Nadia Puttini, E-RYT 500, C-IAYT
Sundays: October 29th, November 19th, December 3rd
4-6pm
BareSole Yoga Studio, Carlisle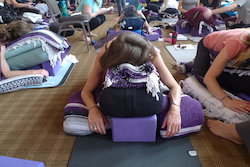 " I will let my body flow like water over the gentle cushions" - Sappho -
Restorative Yoga is a perfect antidote to stress. Given the pace of our daily lives learning how to relax is crucial; to relax is to rest deeply.
"I often refer to restorative yoga poses as "active relaxation". By supporting the body with props, we alternately stimulate and relax the body to move toward balance. Some poses have an overall benefit. Others target an individual part, such as the lungs or heart. All create specific physiological responses which are beneficial to health and can reduce the effects of stress-related disease" (Lasater). The parasympathetic nervous system (rest and digest) becomes dominant and healing at many levels can begin.
Join us for a practice that will help you rest, reflect and reset.
"Thank you for a wonderful restorative yoga class. I particularly like how you integrated the readings". N.H

Cost: $25 each *
To Register Online:
To Register by Check:
Call or Email

Registration Required
Limited to 7 participants

YOGA FOR HEALTHY, MOBILE KNEES
with Shannon O'Haverty, RYT
Saturday, November 11th
9 - 11:30am
BareSole Yoga Studio, Carlisle


This workshop will focus on using hatha yoga to create stronger muscles and better alignment to alleviate knee pain. We will begin with a brief introduction to the knee, a short overview of alignment and the emotional components attached to knee discomfort.
Students will participate in a sequence of poses to strengthen the muscles around the knee and improve alignment when engaged in yoga practice. It will include: seated, standing and lying down poses as well as the support of a chair.
This workshop is open to all levels and accessible to beginners or those who prefer gentle classes.
Shannon O'Haverty (Kripalu) has been a practicing yoga teacher for 12 years. She teaches Yoga to adults and children. Shannon teaches, gentle, all levels, restorative and therapeutic Yoga. She received her Yoga training at the Kripalu Center for Yoga and Health in Lenox Massachusetts, Yoga Point in Nasik India, and Rainbow Yoga for kids in Montreal Canada. Shannon has also studied women's therapeutic Yoga under Soni Anderson and Tina Nance. Ms. O'Haverty strongly believes in the healing and restorative qualities of yoga and wishes to pass this on to her students.

Cost: $40 *
To Register Online:
To Register by Check: Call or Email
Registration Required
Limited Space

SACRED FALL DRUM AND CHANT CEREMONY: A CIRCLE OF GRATITUDE
with master drummer and visionary Laney Goodman and the Mother Drum
Saturday, November 18th
7 - 10pm
BareSole Yoga Studio, Carlisle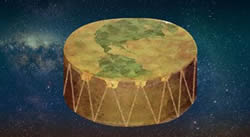 " Amazing drumming circle again. It was so much fun but also, like last time, I feel like a truer more grounded person: more sure about the fact that I am where I need to be and that things will happen as they need to. It is such a powerful experience. Thanks for bringing it all to life." B. C.
Join your sisters & brothers in this Sacred Circle as we call in each direction with gentle rhythms and chants that support each element. East- Air-How as we think, South-Fire-desire/creativity, West-Water-emotional, North-Mother-our physical body.
Please bring chimes, bells, shakers, rain sticks, Native flutes, djembes, ocean drums, and frame drums.
We will also be chanting, sounding, toning and sharing what messages or lessons that come to us during each direction. This ceremony will teach us the power of gratitude and help take us deeper into our Journey together in this ceremonial healing Drum & Chant Circle...as we heal ourselves and mother earth....A-HO!

Cost: $20, adults | $15, teens 14-19 years old | $5 children 10-13 years old *
To Register by Check: Call or Email
Registration Required
Limited Space

YOGA AND HOMEMADE CHAI: A FUNDRAISER
with and all of us!
Friday, December 8th
9 - 10:30am
BareSole Yoga Studio, Carlisle


Celebrate the Holy Days by giving back. Join us in yoga remembering that the world is one family, as Swami Kripalu used to say. Enjoy a class, delicious homemade chai and contribute as you wish. All proceeds will go TBA.

Cost: $20 or class card *
To Register Online:

To Register by Check:
Call or Email

* Registration Fees are Non-Refundable