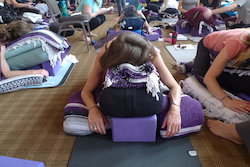 " I will let my body flow like water over the gentle cushions" - Sappho -
Restorative Yoga is a perfect antidote to stress. Given the pace of our daily lives learning how to relax is crucial; to relax is to rest deeply.
"I often refer to restorative yoga poses as "active relaxation". By supporting the body with props, we alternately stimulate and relax the body to move toward balance. Some poses have an overall benefit. Others target an individual part, such as the lungs or heart. All create specific physiological responses which are beneficial to health and can reduce the effects of stress-related disease" (Lasater). The parasympathetic nervous system (rest and digest) becomes dominant and healing at many levels can begin.
Join us for a practice that will help you rest, reflect and reset.
"Thank you for a wonderful restorative yoga class. I particularly like how you integrated the readings". N.H