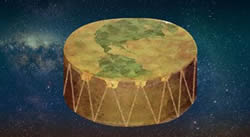 " Amazing drumming circle again. It was so much fun but also, like last time, I feel like a truer more grounded person: more sure about the fact that I am where I need to be and that things will happen as they need to. It is such a powerful experience. Thanks for bringing it all to life." B. C.
Join your sisters & brothers in this Sacred Circle as we call in each direction with gentle rhythms and chants that support each element. East- Air-How as we think, South-Fire-desire/creativity, West-Water-emotional, North-Mother-our physical body.
Please bring chimes, bells, shakers, rain sticks, Native flutes, djembes, ocean drums, and frame drums.
We will also be chanting, sounding, toning and sharing what messages or lessons that come to us during each direction. This ceremony will teach us the power of gratitude and help take us deeper into our Journey together in this ceremonial healing Drum & Chant Circle...as we heal ourselves and mother earth....A-HO!
THIS IS A SCENT FREE SPACE