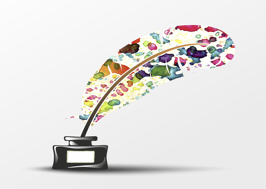 Self-inquiry (svadyaya) is a cornerstone of yoga, as a spiritual practice. This is also true of creative writing.
Both invite us to discover what it is to be human in all of our forms: physical, emotional, mental and spiritual.

In this retreat we will:
• Delve into this exploration through movement, breath, sound, color and mudras
• Put pen to paper to illuminate this unfolding process
• Come together to share the journey
• Tea and treats will be provided
• Bring a pen and a notebook
Barbara O'Neil, a life-long writer, has been teaching writing in the Boston area for ten years; she leads an annual writing retreat in Taos, New Mexico. Her teaching method was originally inspired by the work of Natalie Goldberg, the author of Writing Down the Bones. She introduces writing as a group practice, using well-tested prompts as a catalyst for written expression. For more information, visit her webpage, www.writinglifebarbaraoneil.com

Nadia Puttini, E-RYT 500, MA in Expressive Therapy, has been practicing and teaching yoga, meditation and therapeutic creative expression for more than 20 years. She is the owner of BareSole Yoga in Carlisle, a studio that welcomes and encourages the inquiry of who we are in body, mind and spirit. She is delighted to join with Barbara to explore two of her passions.