SOUND HEALING JOURNEY FOR THE FALL EQUINOX
with Joe Hayes from the Soundscapers
Friday, September 29th
7 - 9pm
BareSole Yoga Studio, Carlisle


Join us for a community journey into sound and stillness as Joe Hayes from Soundscapers guides us into the seasonal transition with didgeridoo, trance Native American drumming, over a dozen crystal quartz and Tibetan sound bowls, guided imagery, sacred chanting and more.
Quantum physics knows that everything is made of vibration, including ourselves. More and more research is showing that sound therapy is an effective healer, working at the deepest cellular and DNA level possible.
Deeply relax on your mat, let go and experience profound regeneration: these are gifted moments in which we can switch modes and access deeper states of consciousness that inform our daily choices; that is where new seeds are planted.
Joe Hayes is the founder and principal of SoundScapers, which for the past seven years has provided therapeutic sound healing practices throughout New England at hundreds of venues and for thousands of attendees.
"Thank you! Joe was amazing and I was really surprised with the resonance and quality of his voice combined with the instruments. He has quite a gift. I had a wonderful sleep last night and my fitbit this morning reported the quality of my sleep to be 100%. My resting heartrate was also very good at 54 beats per minute. I believe that was a result of the complete relaxation I experienced last night." E. L.
To check out his Facebook page, click here

Cost: $35
To Register Online:
To Register by Check:
Call or Email

Registration Required
Limited Space

SYNCHRONIZE WITH THE SEASONS:
AYURVEDIC LIFESTYLE, DIET AND YOGA FOR OPTIMAL HEALTH
a three-part series workshop
with Charlotte Ott and Emmie Stamell
Saturdays: April 8th, June 17th & September 30th
9 - 11:30am
BareSole Yoga Studio, Carlisle


Join Charlotte and Emmie for a three-part Ayurveda discovery. Ayurveda considers synchronizing our lifestyle and diet with the season imperative to optimal mental and physical health. As the elements in nature change with the seasons there are beneficial changes you can incorporate to align yourself and create more ease and less dis-ease. A physical practice of yoga, breath work and relaxation designed specifically for bringing balance to the season will be offered. We will explain and demonstrate daily lifestyle practices. You will leave with tools that you can implement immediately into your daily life. We will conclude with a discussion of diet and how food can be medicine or poison.
This three-part series illuminates principles for Spring, Summer and Fall. Each will be offered as an individual workshop, or as a package for the whole series.
In this Fall/Vata workshop, we will:
Review the basics of Ayurveda, including a brief overview of cosmology and theory.
Review your dosha quiz with the group and gain insights into your unique constitution.
Discuss symptoms of vata dosha imbalance and learn how to restore balance with specific diet, lifestyle, and relaxation techniques.
Learn how imbalance in one season can carry over into the next season, highlighting the need to stay balanced season to season.
Discover herbs and seasonal eating to nourish and energize.
Discover tips for a smooth transition to the fall season.
Learn how cleansing in the fall differs from cleansing in the spring and why it would be beneficial.
Enjoy a vata pacifying Yoga practice (suitable for beginners and advanced students).
Charlotte Ott
500 hour Yoga Instructor
Certified Holistic Health Coach
Cleansing Coach
Natural Foods Chef
www.urcleansing.com
Emmie Stamell
Ayurvedic Practitioner
Kripalu Yoga Instructor
Massage Therapist
Mental Health Counselor
www.sukhayoga.org

Cost: $40 each
To Register Online:
To Register by Check:
Call or Email

Registration Required

AROMATOUCH TECHNIQUE CERTIFICATION TRAINING
with Eileen Ladwig, MS, OTR/L
Sunday, October 22nd
10am - 5pm
BareSole Yoga Studio, Carlisle


The Aromatouch Technique was created by Dr. David K. Hill, D.C., a physician and world renowned expert in the medicinal use of essential oils Dr. Hill created a technique that would be easy enough for anyone to learn and administer, yet powerful enough to produce consistent results.
The AromaTouch techniques incorporates simple hand techniques using essential oils to create a powerful whole body wellness experience. Whether you are young or old, male or female, anyone can learn and put it to use in the lives of those they care for.
The fee includes 6 hours of instruction, a step-by-step manual and video, and 8 doTERRA essential oils used in the treatment ($100 value).
Please don't hesitate to contact Eileen with any questions:
eileenmladwig@gmail.com or call (978) 994-0655.
Eileen Ladwig is an Occupational Therapist who has been integrating natural approaches into her practice for over 30 years. Some of these include CranioSacral Therapy, Reiki, Yoga Herbology, and Sensory Integration. Eileen discovered the benefits of Certified Pure Essential Oils 5 years ago when they were the solution for allergies she had for over 40 years. Eileen's passion is to Educate and Empower individuals and families with safe, effective and affordable natural solutions. Saturday, October 22nd, 10-5pm | BareSole Yoga Studio | $149 Registration required. Limited space.

Cost: $149
To Register Online:
To Register by Check:
Call or Email

Registration Required
Limited Space

RESTORATIVE YOGA SUNDAYS
with Nadia Puttini, E-RYT 500, C-IAYT
Sundays: October 29th, November 19th, December 3rd
4-6pm
BareSole Yoga Studio, Carlisle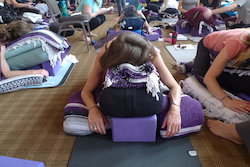 " I will let my body flow like water over the gentle cushions" - Sappho -
Restorative Yoga is a perfect antidote to stress. Given the pace of our daily lives learning how to relax is crucial; to relax is to rest deeply.
"I often refer to restorative yoga poses as "active relaxation". By supporting the body with props, we alternately stimulate and relax the body to move toward balance. Some poses have an overall benefit. Others target an individual part, such as the lungs or heart. All create specific physiological responses which are beneficial to health and can reduce the effects of stress-related disease" (Lasater). The parasympathetic nervous system (rest and digest) becomes dominant and healing at many levels can begin.
Join us for a practice that will help you rest, reflect and reset.
"Thank you for a wonderful restorative yoga class. I particularly like how you integrated the readings". N.H

Cost: $25 each
To Register Online:
To Register by Check:
Call or Email

Registration Required
Limited to 7 participants

YOGA FOR HEALTHY, MOBILE KNEES
with Shannon O'Haverty, RYT
Saturday, November 11th
9 - 11:30am
BareSole Yoga Studio, Carlisle


This workshop will focus on using hatha yoga to create stronger muscles and better alignment to alleviate knee pain. We will begin with a brief introduction to the knee, a short overview of alignment and the emotional components attached to knee discomfort.
Students will participate in a sequence of poses to strengthen the muscles around the knee and improve alignment when engaged in yoga practice. It will include: seated, standing and lying down poses as well as the support of a chair.
This workshop is open to all levels and accessible to beginners or those who prefer gentle classes.
Shannon O'Haverty (Kripalu) has been a practicing yoga teacher for 12 years. She teaches Yoga to adults and children. Shannon teaches, gentle, all levels, restorative and therapeutic Yoga. She received her Yoga training at the Kripalu Center for Yoga and Health in Lenox Massachusetts, Yoga Point in Nasik India, and Rainbow Yoga for kids in Montreal Canada. Shannon has also studied women's therapeutic Yoga under Soni Anderson and Tina Nance. Ms. O'Haverty strongly believes in the healing and restorative qualities of yoga and wishes to pass this on to her students.

Cost: $40
To Register Online:
To Register by Check: Call or Email
Registration Required
Limited Space

SACRED FALL DRUM AND CHANT CEREMONY: A CIRCLE OF GRATITUDE
with master drummer and visionary Laney Goodman and the Mother Drum
Saturday, November 18th
7 - 10pm
BareSole Yoga Studio, Carlisle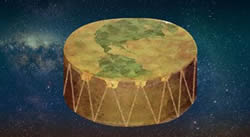 " Amazing drumming circle again. It was so much fun but also, like last time, I feel like a truer more grounded person: more sure about the fact that I am where I need to be and that things will happen as they need to. It is such a powerful experience. Thanks for bringing it all to life." B. C.
Join your sisters & brothers in this Sacred Circle as we call in each direction with gentle rhythms and chants that support each element. East- Air-How as we think, South-Fire-desire/creativity, West-Water-emotional, North-Mother-our physical body.
Please bring chimes, bells, shakers, rain sticks, Native flutes, djembes, ocean drums, and frame drums.
We will also be chanting, sounding, toning and sharing what messages or lessons that come to us during each direction. This ceremony will teach us the power of gratitude and help take us deeper into our Journey together in this ceremonial healing Drum & Chant Circle...as we heal ourselves and mother earth....A-HO!

Cost: $20, adults | $15, teens 14-19 years old | $5 children 10-13 years old
To Register by Check: Call or Email
Registration Required
Limited Space

YOGA AND HOMEMADE CHAI: A FUNDRAISER
with and all of us!
Friday, December 8th
9 - 10:30am
BareSole Yoga Studio, Carlisle


Celebrate the Holy Days by giving back. Join us in yoga remembering that the world is one family, as Swami Kripalu used to say. Enjoy a class, delicious homemade chai and contribute as you wish. All proceeds will go TBA.

Cost: $20 or class card
To Register Online:

To Register by Check:
Call or Email